About Me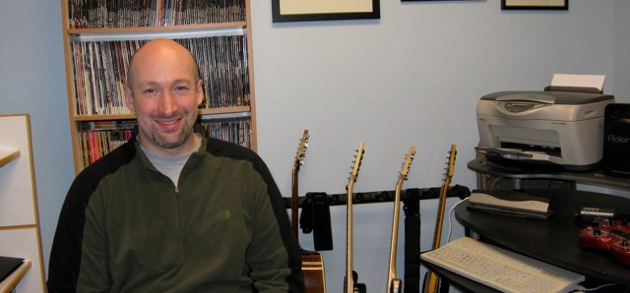 I am a father, son, friend, writer, and a musician. I teach guitar lessons on the South Hill in Spokane, Washington. I play music, write for my blog, and most of all I enjoy spending time with my daughters.
MUSIC:
Guitar is my main instrument, and I have played for well over 30 years. Styles of performance have included blues, classical, funk, grunge, jazz, metal, and rock. I also play piano, and compose music for a wide variety of ensembles. I recorded my first professional demo in 1992 at SFCC. I took 3rd place in the Axeman Competition at Music World in 1993 (?) with a song called #8. I was in the alternative rock band Jack Salad between 1992 and 1996, and we played original music in Spokane. One of our performances was featured on PBS for Spokane Cross Walk. In 1994 I played electric guitar for a production of Little Shop of Horrors for eight sold out performances at EWU. During the summer of 1994 I received a full ride scholarship to the Berklee School of Music for Guitar Performance, attended the summer session, and tested out of their program. In 1995 (?) I wrote and recorded 5 songs for a PBS Television Series called Sit and Be Fit that was nationally syndicated. In 1996 a piano composition I wrote for beginning pianists called March received an award from the Greater Spokane Music and Allied Arts Festival, and was later performed by local students. I spoke many times in the Composers Symposium at EWU about film scoring, film composer Danny Elfman, the compositions of Igor Stravinsky, and my own compositions. In the mid '90s I played numerous times with the EWU Chamber Orchestra and Percussion Ensemble. In 1998 (?) I played guitar for a series of performances of The Weaver in an orchestra at Spokane's First Presbyterian Church. In that time period I played solo classical guitar independently, and for worship. I've played for well over 800 people solo and in large groups in this setting. From 1998 to 2002 I wrote, and recorded primarily solo to develop my singing and songwriting. In 2004 I played guitar, sang, and contributed original songs to By Candle Light, an acoustic trio. Between 2006 and 2008 I was in The Lords of Confusion, a basement rock band. In 2008 I began to focus more on my family. Recently, as my daughters have gotten older, I have started to make music again. Lately I've gotten more active jamming with friends, and writing songs. You can hear a lot of my music (old and new) on Soundcloud, Instagram, and YouTube.
EDUCATION:
I grew up in Spokane Valley, and graduated from CV high school in 1989, with honors. In 1992 I received a Commercial Music/Jazz Studies Degree from Spokane Falls Community College (SFCC) with honors. 1993 I received an A.A. in General Studies from SFCC, with honors. In 1994 I received a full ride scholarship to the Berklee School of Music for Guitar Performance, attended the summer session, and tested out of their program. In 1996 I graduated from Eastern Washington University (EWU) with a BA in Music Merchandising, Cum Laude. From 1996 to 1998 I continued post graduate studies, studied composition, and piano performance. In 2003 I studied voice, and in 2004 (?) I studied songwriting with Myles Kennedy for almost a year. The song I wrote called "You Smile" was one of many to come out of those lessons. In 2018 I took an on-line course on virtual orchestration to get myself started composing again, and it worked.
CAREER:
Professionally, I've taught guitar lessons well over 25 years now. In the early 90's I was the Stage Manager at EWU, and SFCC. I've been paid as a sound man, light man, recording engineer, mixing engineer, producer, and mastering engineer independently for local musicians over the last twenty years. In 1992 I started teaching guitar lessons because my friends were asking for lessons, and did some one on one tutoring with recording and composition software. In the mid 90's I wrote and recorded 5 songs for a local TV show called Sit and Be Fit. In the late '90s I worked in retail at Music World. By late 1996, I was teaching guitar lessons full-time. I built guitar classes at Cheney Parks and Recreation from half a dozen students to start with, up to two almost thirty students in two classes over a period of two years. I taught guitar lessons for The Upper Columbia Academy from 2011 to 2013, and built a curriculum for those students appropriate to the school curriculum. In 2015 I had three offices, with a maximum of 65 students. Last year I started putting together a teaching studio in my basement and began taking students there. Recently, I've been able to watch my students succeed. I host an online group for students and friends where we set up local jam sessions and gigs, show off our new music, and catch up. A former student just started teaching guitar lessons full time in Colorado. I have former students who are now touring nationally, and are very successful on YouTube and Spotify. Seeing them succeed has been amazing, and very fulfilling.
HOBBIES / INTERESTS:
I like coffee, laughing, music, the arts, sports cars, meditating, being healthy, and creative. I have a blog, and I write for learning and for fun. I compose music. I'm an Apple computers guy, and have been the "go to Apple Music guy" for my friends and family since the '90s. I like to read, and enjoy playing with my 2012 Subaru WRX STI. Cars have been a passion of mine since I was sixteen and got my first car, a '67 Camaro. I am active on social media. Most of all, I love having fun with my two daughters.
MENTORS:
I've been lucky enough to study with many incredible teachers, and here are just a few of those I would consider a mentor:
Music Teachers:
Dean Robatham - Trumpet (when I was 8)
Paul Halvorsen - Theory
Brent Edstrom - Band leader

Guitar Teachers:
Stan Cobbs - Classical and Blues (first teacher)
Brian McCarthy - Classical and Metal (second teacher)
Mike Hamilton - Jazz Harmony and performance (third teacher)
Joe Brasch - Rock performance (fourth teacher)
Jon Finn - Berklee - comprehension (???)

Piano:
Jim Templeton (SFCC)
Gary Edighoffer (SFCC)
Dr David Rostkoski (EWU)

Composition:
Dr Wendell Jones (EWU)
Dr David Jones (EWU)

Sound Reinforcement:
Jay Nordling

Songwriting:
Myles Kennedy - Alter Bridge, Mayfield Four, Citizen Swing
FAVORITE BANDS AND STYLES:
Classic Rock, Blues, Funk, Jazz, Metal, Jimi Hendrix, Led Zeppelin, Pink Floyd, Deep Purple, Black Sabbath, AC/DC, Van Halen, Randy Rhonds, Ozzy Osbourne, Steve Vai, Stevie Ray Vaughn, Allman Brothers, Iron Maiden, Metallica, Pantera, Nirvana, Red Hot Chili Peppers, Rage Against The Machine, Radiohead, Tool, John Lowry (John5), Mastodon, Baroness, School of Rock, and Foo Fighters.
My Resume is available on
request
.